When his mother dies and he discovers the man he believed was his father is not, sixteen year old Chris is haunted by a mysterious apparition that forces him to question his pampered existence and embark upon a quest to find himself. Hoping she will "make a man of him", he seeks sanctuary in the home of Magda, a middle aged waitress with a penchant for sex, only to discover she lives with her father, a cigarette smoking, beer swilling immigrant.

Chris hates his shabby new surroundings at the end of the street and the shabby old man at the end of his life who spends his days listening to old blues records and making Chris fetch him fresh cans of beer. But, when the old man tells tales of Communism, torture, escape and the mysterious medallion he wears, The Vagabond King weaves mythology, astronomy, religion and the histories of Hungary, Africa and ancient Mesopotamia into a metaphysical mystery as Chris learns that, like the old man's skipping blues records, the universe is full of sorrow and the roles we are playing have been played many times before.
Have More Info?

Say it here!

Again, you are free to do whatever you wish with the objects provided in this site design. There are no limits to what you can do.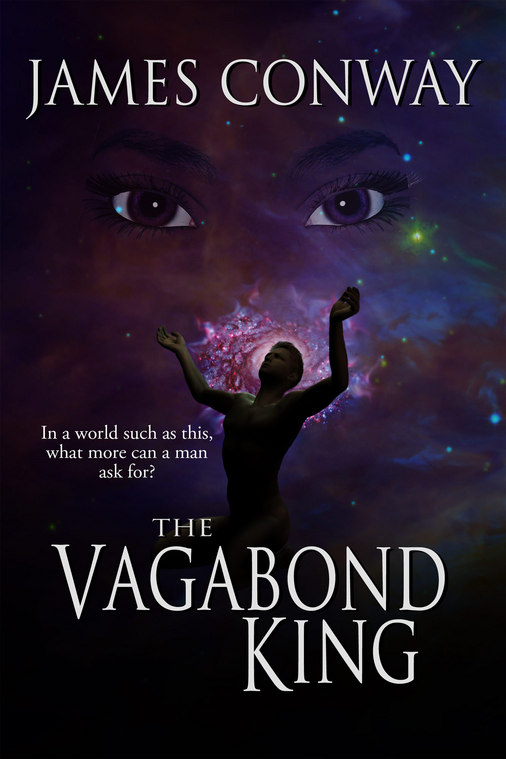 Welcome to the website of James Conway author of

The Vagabond King
Read what people are saying about The Vagabond King
5.0 out of 5 stars Absorbing contemporary fiction, November 3, 2011

By TopCat "TC" (Devon) -

Chris found out, courtesy of his unwitting rowing parents, that the man he thought was his father was not. After his mum dies the 16 year old is haunted by a being urging him to look deeper at himself. His adoptive father is a no - nonsense kind of man who doesn't have any time for finding oneself and Chris leaves home. He seeks out acquaintance & middle-aged waitress Magda, envisioning her as both a lover and guide in life. The reality is that she lives with her immigrant Hungarian father, a man lost in the past, with nothing more in his life than beer and the Blues.

This is a story about young man finding his way in life, and also about how history repeats itself. Magda is well read and teaches Chris about various deities and the common threads running through many religions and belief systems. She is teasing yet seems to have an affection for the young man they take in. The Old Man shares his life story and Chris, initially repulsed by him, gradually begins to understand him. His stories about the events leading up to his flight from Hungary paint a picture of a survivor. I liked Chris, who battles between wanting the bright future his father sees for him and the need to discover who he really is, and his desire to travel to Europe.

I found this book an absorbing read, and while I can't quite put my finger on it there is something special about it. Perhaps it is the merger of beliefs and mythology with the gritty details of a life hard lived, played out with a background of soulful Blues. In places it felt a little repetitive, but that may have been an intentional echo of the call and response style of the Blues. The end caught me unawares and added another dimension to the story.

I really enjoyed this book and the feelings it evoked as I read. It also made me think as I read, no bad thing!



5.0 out of 5 stars The fine line between love and hate, October 6, 2011

By TM Romero -

Whew! This book is no picnic. If you're looking for a mindless read to sit back and relax with after a hard week, this isn't it. That is not to say that I wasn't hooked from the very first paragraph. The first sentence, in fact. Right after the four word prologue. "A long time ago..."

"The morning after my mother's death, I was surprised to see the sun rise."

How can you put a book down after that?

There were times I would have liked to throw in the towel. Who wants to be dragged a second time, by the hair, flipping pages as you go, through the tedious muck of adolescence? Christopher, Conway's quintessential teen-age protagonist, really isn't all that likable. He's spoiled, petulant and prone to pages of banal, sophomoric philosophizing. What's the point of money if we're just going to die anyway? He runs away from his upper-middle class life of privilege and opportunity and shows up at the door step of Magda, a waitress he is infatuated with who is old enough to be his mother, and who he discovers after it is too late, lives with and supports her first generation Hungarian immigrant father. So, yes, Conway has a sense of humor, and, he tosses out a lot of really savory literary treats to reward us for sticking with his beast of a hero. The actual Vagabond King (and the real hero, in my opinion) is Lazlo Mihali, Magda's father and the mentor who guides Chris (he's changed his name and become a Buddhist vegetarian who refuses to eat the meals Magda provides and cooks for him) through his self-pity and angst and sets him, both feet on the ground, off to confront real life; an endeavor filled with enough honest to god misery and suffering there isn't any point in trying to dredge up more as far as Lazlo is concerned. Lazlo Mihali has become an all time favorite character for me. Conway portrays him perfectly. I can hear his accent, smell his stinky beer and cigarette polluted body odor, but, best of all are his stories. His love of airplanes and his descriptions of Hungarian food and his tales of life during the Communist invasion and regime.

There is a lot in this book. There are plenty of beautiful, clever, original turns of phrase. There is a plot and a few sub-plots; some well developed characters; but, the most important aspect of this book for me was that it had a moral. Not just any moral, but one that few authors would have the courage to propose in an age when the individual's search for self has become the driving force of humanity. Conway reminds us not to get so caught up looking for the meaning of our existence that we wake up one day and realize it's passed us by. This book probably won't make James Conway a famous man in his lifetime. But if the world and literature survive into the next age, The Vagabond King will probably be a classic.